In Bolinas, the town where we lived until I was nine, there were no movie theaters. For public life there was an old saloon where the local poets pretended to be tough, and a general store where barefoot kids could buy dusty licorice ropes for a penny; there was even a tiny library. But no movies anywhere, except for the time when The Harder They Come screened on a sheet in someone's garage. That was the first film I ever saw. I was four; all I remember is the sound of breaking glass — whether it came from the soundtrack or from somewhere in the room, I'm not sure.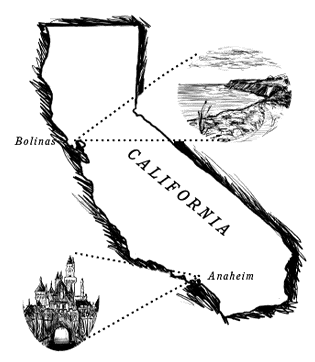 So I had almost no experience of movies as a child; but I was an expert on The Art of Walt Disney. It was the biggest book I owned, a birthday present. I studied it intensely, absorbing the history of American animation without ever seeing Mickey Mouse in motion. I read about Disney's childhood in Kansas City, but I don't remember it; I only remember the pictures: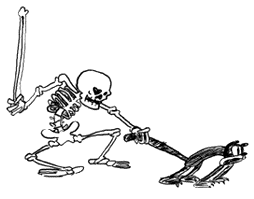 they were vivid and strange, and often they reminded me of things I knew.
I did go a couple of times to real movie theaters, in San Francisco. One year my mother and I hitchhiked to the city and saw For the Love of Benji. Afterward I ate fried prawns in a Chinese restaurant with my mother's godmother, whose hands shook as she tried to pour the tea. I gave her a drawing of a deer mouse, copied from a photograph in a magazine.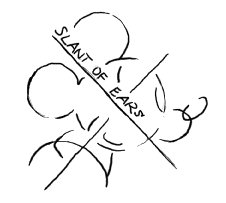 Another year I went to see Star Wars at the Coronet with my friend Rowena, whose brother had already seen it seven times. Rowena's mother bought us hamburgers at a restaurant whose sandwiches were named after movie stars I'd never heard of. I wondered if I would ever get to eat at McDonald's.
I had the book of 101 Dalmatians. I'd never seen a dalmatian in real life. The most exotic dog I ever saw was an afghan hound, which disappeared after it was accused of biting off a toddler's nose on a dirt road in Bolinas.
I also owned the LP of Winnie the Pooh and the Blustery Day, and I knew several songs from Alice in Wonderland: "I give myself such very good advice..."
Some of my books had been my mother's when she was growing up. She had special bookplates with pictures of Jiminy Cricket proudly displaying a badge: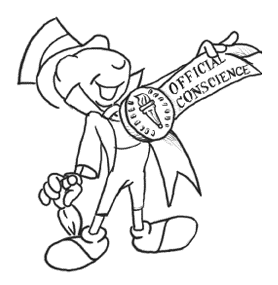 Reading The Art of Walt Disney, I thought Bambi must be especially beautiful. When I finally did see the movie, I was surprised at how quickly the mother deer's death was forgotten — I'd been thinking about it for more than 20 years.
When I finally saw Mary Poppins, I was 23 years old and on LSD. When I finally saw Dumbo, I was older and sober, but I cried.
As a grownup I went to school for many years to study the history of art. I wrote my thesis about an artist who insisted that his ideas for films were not influenced by Fantasia.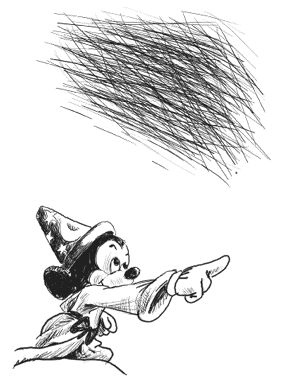 After I was done with school I took a job in a film library, where people asked me questions and I looked the answers up in books. One week five different people called up in search of information about early Walt Disney movies. When I finally asked a caller why she needed to know all the details about the second Alice Comedy, she told me she was trying to win a McDonald's trivia contest: if you knew enough about Disney's career, you could win a free hamburger.
At the archive I came across a book that claimed Walt's real name was Jose, that he had been born in Mexico and secretly adopted by the Disney family. There was a time when I used to pretend I was adopted, until I developed enough of my parents' abnormalities to make the relationship undeniable.
I left the film library to take a job as a critic, but it turned out that the editors where I worked wanted me to review movies I'd never seen. I did get to read about them, though, and look at pictures.